200hr YOGA TEACHER TRAINING
BEGINS JANUARY 2019
Would you like to:
Immerse yourself in the teachings and practices of yoga?

Build a transformative personal practice?

Make positive life changes?

Learn to share the teachings of yoga with others?
The yoga-in-depth 200hr teacher training provides a year long immersive introduction to the art and science of yoga. It is designed to give students an experiential understanding of the healing and transformational path of yoga.
This in-depth course of study offers:
A safe and sacred space in which personal transformation can occur. This happens both at the individual and community level. Each student will be given the tools to create (or refine and strengthen) their personal practice. When we come together as a learning community we will share reflections and offer support. 
A deep dive into the study of Patanjali's Yoga Sutras as well as an introduction to other ancient texts of yoga.
PLUS: Students will be registered for Summer's online Yoga for Transformation philosophy course.
(learn more about Yoga for Transformation here)
An extensive practicum experience. Students will be given ample time to practice

—

and observe others practicing

—

the individual tools of yoga. From the ground of this practice and observation, students will progressively develop and hone their own unique style of teaching.
PLUS: Students will have the opportunity to attend Summer's public classes. Either her drop-in classes or short courses.
(learn more about Summer's classes here)
The year-long curriculum includes
Techniques, Training, and Practice:
Students will have the opportunity to experience and understand the correlation of body, breath, senses, thoughts, emotions, behavior, habits, and belief systems through working with the tools of yoga.

Drawing from the lineage of Viniyoga, this training will introduce students to a wide range of yoga tools including asana (posture), pranayama (breath), Dhyana (meditation), chanting and mantra, mudra (hand gestures), ritual, and prayer.

This course will cover the viniyoga science of sequencing, which will allow students to competently and confidently design safe, integrated, and transformative practices.
Teaching Methodology:
We will study and practice several aspects of teaching including clarity of language, voice quality, technique demonstration, adjusting, adapting, coaching, personal teaching styles, community building, intention, and theme (among others!).

We will explore the art and science of guiding students in and out of postures with safety, bringing them into a deeper knowledge of their own bodies and providing them with an opportunity to be wholly present without judgment.
Anatomy and Physiology:
We will work to understand functional and healthy movement patterns using the model of Anatomy Trains. The Anatomy Train model highlights how the body is functionally connected through the fascia rather than parsing out individual muscles.

We will also study the energy systems of the body with a strong focus on respiratory physiology and the autonomic nervous system.
Philosophy, Ethics, and Lifestyle:
Yoga practice encompasses so much more than what happens on a sticky mat. Every moment of life provides an opportunity for awareness and intention (practice!). Through our study of the philosophical texts of yoga we will explore what it means to lead a yogic life.

Through an introduction to yoga's sister science, Ayurveda, we will explore our elemental constitutions and the daily and seasonal rhythms that lead to a balanced life.

Through the lens of the yamas and niyamas (the first 2 limbs of the 8-limb path of practice that relate to our behavior) we will explore what it means to be an ethical person and teacher of yoga.
Practicum:
The best way to learn how to do something is to actually do it. The practicum will allow students time to observe teaching, to practice teaching each other, to offer and receive feedback, and finally to design and offer a 60-minute public class.

The practicum also explores the business aspects of being a yoga teacher, including the creation of professional documents and class marketing.
Homestudy:
Integration and understanding come through exploration and practice. Students will have weekly and monthly assignments throughout the year to support the learning and assimilation of these deep teachings.
Course Structure:
Weekend Intensives — 144 hours
We will spend one weekend a month together. The weekend schedule will be as follows:
Friday 5:30-8:30pm
Saturday 11am-2pm & 3-6pm
Sunday 9:30am-12:30pm
Teaching Observation & Elective Study — 24+ hours
Students will attend public classes every month. There will be various assignments accompanying these observations.
Students will also have the opportunity to pursue self-directed elective study in an area of personal interest.
Additional Practicum Hours — 6+ hours
In addition to the practicum hours held during weekend intensives, students will teach a public class and attend at least 5 of their colleague's public classes.
Private Sessions — 6 hours
Each quarter throughout the year students will have a 90-minute private session with Summer. These sessions are offered in support of the student's personal practice.
Home Study — 100+ hours
Students should plan to spend 2-5 hours a week reading and completing assignments.
2019 Weekend Intensive Dates
January 11-13
February 8-10
March 8-10
April 12-14
May 10-12
June 7-9
July 19-21
August 2-4
September 13-15
October 11-13
November 8-10
December 6-8
Faculty
Program Director
Summer Cushman, M.Div., E-RYT500, C-IAYT
Summer is excited to offer this foundational 200hr teacher training. It's work to which she feels deeply called. Her own experiences in teacher training were life changing and she looks forward to helping create such experiences for the students in this program. Over the past decade Summer has been lucky to study at a high level with master teachers. And under the direction of Robin Rothenberg, has officially been taught to train teachers.
She is excited to come alongside students with support, guidance, and mentorship as they deepen their personal practice, expand their knowledge of yoga, and grow their abilities as teachers. You can read Summer's full bio here.
---
Adjunct Faculty
Julie McNeill, BSN, RYT-500, C-IAYT
Julie completed her 200-hour Yoga Teacher Training at the Blue Banyan Studio in Philadelphia while simultaneously practicing as a Nurse Anesthetist. Her initial teacher training revealed the potential for a true multidimensional approach to caring for individuals – something that she had felt was missing in her long career in healthcare. Upon relocating to Seattle with her family in 2012, she felt a call to leave her 26-year career as both a Registered Nurse and a Nurse Anesthetist in order to study yoga therapy. Julie has studied extensively with Robin Rothenberg of Essential Yoga Therapy, completing the Essential Low Back Program, 500-hr Advanced Teacher Training, and the Yoga Therapy Certification.
Julie designed a specific yoga program that focused on fascia anatomy as a means of encouraging injury prevention and increasing bodily awareness. Her true passion lies in assisting students and clients in discovering their own inner wisdom, enabling them to move towards overall improved health and wellness on all levels of their being. In this training, Julie will support students in the study of anatomy and physiology.
---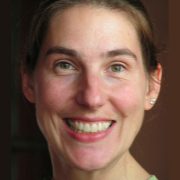 Katrina Svoboda Johnson, LMT, AHC/CAP

Katrina Svoboda Johnson is a tinkerer. She has a knack for perceiving and understanding the underlying dynamic. Katrina then rifles through her collection of modalities to create a tailor-made protocol for you. This can include Ayurvedic health and wellness consultations, education, bodywork, botanical formulations, yoga, and self-care practices.
.
In this training, Katrina will provide students with an introduction to Ayurveda, yoga's sister science. She will help us explore Ayurveda's deep wisdom relating to the importance of a personal practice that also happens to be appropriate to your body-mind type (dosha). She will support students in the study of self-care routines that nourish and stabilize. 
You can learn more about Katrina here.
---
Minta Allred, E-RYT, RCYT, CF-T
Minta is a yoga teacher, facilitator-trainer, conscious activist and social entrepreneur with a B.A. in Yoga Studies. Her teachings include an integrated understanding of the body through detailed alignment and breath-awareness, as well as inspirational readings that poetically bridge yogic lifestyle concepts on the mat with everyday life. She teaches how to use props and variations to help her students move with integrity. Minta also works with the nonprofit, Embody Love Movement, through which she guides participants on a transformational journey to find inner peace and outer purpose through self-acceptance. She credits yoga entirely for reminding her to live imperfectly with great delight!
In this training Minta will support students in the study of asana practice. You can learn more about Minta here.
---
Cost
The investment for this year-long certification program is $3,500.
There are 5 payment options:
Pay in full before October 15th, 2018 and save $250
Pay in full between October 15th – December 15th, 2018 and save $100
15 Month Payment Plan

15 monthly payments of $240
This payment plan must begin no later than October 15, 2018

12 Month Payment Plan

12 monthly payments of $300

8 Month Payment Plan

8 monthly payments of $450
Please note that payment plans include a service fee of $100.
Payments can be made in the shop.
Location
The training will be held at Flow Motion Wellness Sanctuary in Ferndale, WA. This beautiful practice space is located in the Historic Carnation Building right along the Nooksack River.
1920 Main St #19, Ferndale, WA 98248
Registration
Interested in applying for the program?
Click here to download the application.
Questions?
Still have questions about the program? Want to talk through an aspect of the program or figure out if it's right for you? I am happy to chat!
Send me a message and I'll be in touch soon.