Group Yoga Classes:
I offer classes and courses at 3 OMS Yoga and the Ayurvedic Health Center in Bellingham, WA.  These classes are for anyone interested in learning more about themselves and the deeper teachings of yoga. I hope you'll join me for study and practice soon.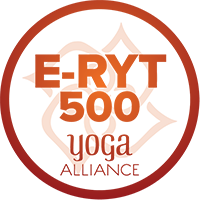 Weekly Drop-in Classes at 3 OMS Yoga
:
Yoga Church
Sunday mornings from 9:30-11am. 
Spirituality is part of what it means to be human and the Yoga Church will be a time to gather together with the intention of building community, deepening our practice, and cultivating a sense of the sacred in our lives. Together we'll explore spirituality through gentle asana, pranayama, chanting, and meditation. Teachings will be offered from the ancient scriptures of both the East and West in order to help us connect with Divine Mystery and build our capacity to love. 
Gentle Yoga

Monday evenings from 7:15-8:30pm
This slow moving, meditative practice integrates mudra (hand gestures), mantra, pranayama (intentional breath work), stillness, and teachings from the wider scriptural world of yoga. It is my hope that students leave class feeling deeply nourished in their physical bodies, in their energy, in their minds, and in their spirits.
Feel free to drop-in to my classes anytime. Please arrive 10-15 minutes early to get set up and settled in!
3 OMS Yoga is located at 1319 Cornwall Ave Suite 200 in Bellingham, WA.
Click here for 3 OMS Yoga pricing.
---
Short Courses
Short course topics include:
Building your Spiritual Practice
The 5-Elements
Season Keeping (intention and ritual for the Solstice and Equinox)
Yoga for Anxiety Relief
Yoga for Core Strength
Functional Breathing & Pranayama
Kriya Yoga
Meditation
The Yamas & Niyamas
These courses are designed to support you. If you'd like to see something added to the calendar or if there's a different topic you'd like me to cover, please let me know.
If you have questions about any of my classes, don't hesitate to contact me.
"Not only does Summer have the experience to tailor a specific practice to your needs, she has that special sense of inner peace to guide you through what ever your present journey. It is fortunate to find a teacher that truly has integrated and connected with the deeper meaning of yoga. If you are looking to revitalize your practice or are drawn to yoga for a specific purpose, Summer is a great guide to your own discovery." -BK
"After a serious back and pelvic injury and three unsuccessful outpatient back surgeries, my neurosurgeon directed me to Summer. He believed yoga was a better fit for me than physical therapy. He was correct. My work with Summer was tremendous! In time, my back healed, I could sleep and the pain was gone. No longer was there a need for pain and sleeping pills and muscle relaxers. My doctor told me that my spine has been transformed. I am very grateful to Summer for her commitment to my healing! In many ways she changed my life and I am now committed to yoga." -LC
"Yoga for Transformation opened me to a whole new realm of possibilities, both personally, spiritually, and emotionally. It let me see that all I needed was right here before me, and that I needed to get past the barriers I set for myself to see the full realm of possibility. I am better at noting my thoughts, and assessing them for what they are, living in the present, and breathing (probably the most important part). While I still drift away from my practice periodically, the grounding I received in that very first session with Summer, and other sessions that followed, continues to pull me back, but also gives me the strength to take even bigger leaps into more intensive study and reflection." -BL
"I have taken yoga classes off and on for over 20 years. Taking Summer's classes led me to discover that what I had thought yoga to be – the physical asana practice – is only one small part of what the classic practice of yoga has to offer. Taking Summer's "Yoga for Transformation" class two years ago was a watershed moment that fundamentally and positively altered my life. Summer helped me develop a deeply meaningful personal practice that has provided me with the tools to engage authentically with my daily life and the people I love, know myself better, and be intentional about the choices I make. With Summer's support and guidance, I have worked successfully through the conclusion of a troubled relationship and am working more deeply now on meditation and reflection in my practice to guide next steps for my career and personal life. Summer is gifted both as a teacher and non-sectarian spiritual guide; her grounding in yoga studies and her own avid search for engagement and authenticity are inspiring. I feel so fortunate – and blessed – to have Summer as my teacher, and grateful to yoga, which has given me the framework to find joy in authentically living in each new moment." -DA